Central Division Director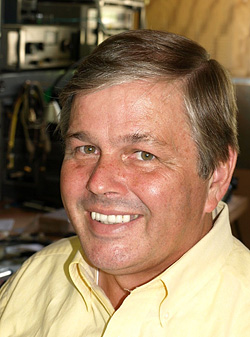 Kermit Carlson W9XA
1150 McKee Street
Batavia, IL 60510
(630) 879-0983
w9xa@arrl.org
Central Division Vice Director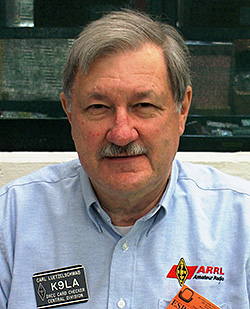 Carl Luetzelschwab K9LA
1227 Pion Rd
Fort Wayne, IN 46845
(260) 637-6988
k9la@arrl.org
NEWS FLASH - NEWS FLASH - NEWS FLASH - NEWS FLASH

IEEE EMC Society 2017 Meeting Notice- April 19th, 2017

March 4, 2017 - The Chicago Chapter of the IEEE EMC Society will hold it's Wednesday-April 19th meeting
at Fermilab in Batavia, Illinois. This Meeting is free of charge, and is open to all interested parties, not just IEEE members LOCAL AMATEUR RADIO OPERATORS ARE ENCOURAGED TO ATTEND.


The Meeting Program, "Man-Made Noise and the Impact to Radio Communications – The Changing Environment" will feature Mr. Ed Hare (W1RFI) IEEE Vice-President of Standards and American Radio Relay League Laboratory Manager and Dr. Greg Lapin (N9GL) - Co-chair of the Spectrum and Receiver Performance Working Group of the Federal Communications Commission (FCC) Technological Advisory Council.

These two distinguished experts in the field of Electro Magnetic Compatibility will examine the rapidly changing environment of man-made noise and the impact to radio communications. Ed Hare and Greg Lapin are active radio amateurs and members of the American Radio Relay League. They will present ongoing work to characterize the modern environment of man-made radio noise; describe the impact to radio communications; and explain the ongoing work with regulatory agencies to prevent harmful interference to licensed users of the radio frequency spectrum.

Location: FERMILAB, Batavia, Illinois – Building #327 (click for map)
Kirk Road and Wilson Street, Batavia, IL 60510


"Talk-in" Directions available through the WB9IKJ/R Fermilab ARC Repeater on 444.225 MHz (pl 114.8 +5.0 MHz offset)or by phone (630) 277-1699 the evening of the meeting.

Registration: Contact Kermit Carlson, W9XA, at 630-840-2252 or email Kermit@fnal.gov

Meeting is free of charge, and is open to all interested parties, and not just IEEE members

LOCAL AMATEUR RADIO OPERATORS ARE ENCOURAGED TO ATTEND

K9CT New ARRL  Central Division Contest Advisory Committee Rep

February 11, 2017 - For over 18 years Mr. Gregory Clark, K9IG, of Franklin, Indiana has served as the Central Division's representative to the ARRL Contest Advisory Committee (CAC). Having been appointed by Mr. Ed Metzger W9PRN in 1999, K9IG has been  recognized  as a guiding presence on this important body.  His work on this Committee has helped the decision-making process of the ARRL Board regarding HF Contesting during the term of three Central Division Directors. Greg has announced his retirement from this committee position effect today.   I would like to express my sincere gratitude for his service to the League and amateur radio over the past two decades. Thank you Greg !
I am a pleased to announce that Mr. Craig Thompson, K9CT, of Trivoli,  Illinois  has accepted the appointment as the ARRL Central Division Representative  to the ARRL  Contest Advisory Committee. Craig's accomplishments in amateur radio contesting includes many first place contest finishes and he holds several contest records. Craig is an ARRL  Life Member, a member of the NIDXA, CW ops,  A-1 Operators, the Maxim Society, and he is Board member of the NCDXF.  Craig also presently serves as the President of the Society of Midwest Contesters.
I look forward to working with Craig as part of the ARRL Central Division team. 
73, Kermit Carlson W9XA

HR 555 passes the US House of Representatives

JANUARY 23, 2017 - Greetings; It is with great pleasure that I can relate that the Amateur Radio Parity Act, HR-555, has passed the House of Representatives and is now on the way to the Senate. The bill passed by unanimous consent late Monday afternoon January 23rd, 2017. For the whole story, please see...
73, Kermit Carlson W9XA

HR 1301 passes the US House of Representatives

September 12, 2016 - Late breaking news. At 6:29 P.M. EDT, H.R 1301 as amended was considered on suspension and passed by the U.S. House of Representatives. It now goes to the U.S. Senate for consideration. Thank you to all who helped sign letters to their Representative. 73, Kermit W9XA

Carl Luetzelschwab, K9LA, Appointed new Central Division Vice-Director

July 21, 2016 - ARRL President Rick Roderick, K5UR, in consultation with Central Division Director Kermit Carlson, W9XA, has appointed R. Carl Luetzelschwab, K9LA, to become the new Central Division Vice Director. He fills a vacancy created when Carlson became Director with the recent retirement of Dick Isely, W9GIG. Luetzelschwab is a resident of Ft. Wayne, Indiana. Licensed since 1961, he is an ARRL Life Member and is well known in the amateur community.

He is a frequent contributor to many ARRL publications, and had previously served as the Editor of the ARRL's National Contest Journal. He is an active contester and DXer, having achieved DXCC #1 Honor Roll as well as having earned 160 Meter DXCC. He is considered one of the leading authorities on HF propagation and has been a frequent presenter at many hamfests and conventions, including W9DXCC, Dayton Hamvention, and DX University.

"I plan to bring lots of energy to the job and to be visible to the members of the Central Division," Luetzelschwab said. "It is an honor to serve and give back to the Amateur Radio service for all that it has given me over the years. I am looking forward to working with Kermit Carlson, W9XA, whom I have known for a number of years. And I would like to give a big thank you to retired director Dick Isely, W9GIG, for his friendship and many years of service. I hope to emulate his visibility and approachability."

Luetzelschwab is married to Vicky, AE9YL, and together they have participated in several DXpeditions, including YK9A, OJØ, and numerous trips to ZF, operating as ZF2LA and ZF2YL. He retired in 2013 after 41 years as an RF Design Engineer with Motorola and Raytheon (formerly Magnavox).

ARRL Central Division Director - Dick Isely, W9GIG, Steps Down

July 19, 2016 - Saying it was time that the ARRL Central Division had a younger leadership, Central Division Director Dick Isely, W9GIG, of Saint Charles, Illinois, has resigned from the League's Board of Directors. He has been succeeded by Vice Director Kermit Carlson, W9XA, of Batavia Illinois.

"I'm 77 years old, and I still have pretty good health, despite my slow recovery from a shingles attack that hit me last December," Isely said in a public announcement. "However, it's time that you have a younger Central Division Director." Isely and Carlson were re-elected last year without opposition, and Isely expressed confidence that Carlson would "do a better job" in the Director's chair.

Isely tendered his resignation during the July 2016 ARRL Board of Directors meeting over the weekend in Windsor, Connecticut, and acting on Carlson's nomination, Isely's Board colleagues elected him as an ARRL Honorary Vice President.

Former ARRL Central Division Director, Dick Isely W9GIG

"I have thoroughly enjoyed meeting and talking with many of you over these many years, and, from time to time, there will be future opportunities for the activity," Isely's announcement concluded.

During his time on the Board, Isely served as a member of the ARRL Executive Committee as well as on the Board's Administration and Finance and Membership Services committees. He chaired the CEO Search Committee after former ARRL CEO David Sumner, K1ZZ announced his retirement in 2015. Isely also has been among the ARRL Board members to promote the Amateur Radio Parity Act on Capitol Hill.

Isely became the ARRL Central Division Director in 2001, succeeding Ed Metzger, W9PRN, and he was an ARRL Foundation director from 2007 until his resignation from the Board. He had served as ARRL Foundation vice president since 2008. ARRL Great lakes Director Dale Williams, WA8EFK, has been named to replace Isely on the ARRL Foundation Board.

Isely is a graduate of the University of Missouri and a retired US Navy and American Airlines pilot. He's an ARRL and an AMSAT Life Member and has been a radio amateur since 1977. Isely helped organize the National Frequency Coordinators' Council and served 4 years as a director.

ARRL President Rick Roderick, K5UR, is expected to soon announce a successor to Carlson to fill the now-vacant Vice Director's seat. The ARRL Central Division is comprised of Illinois, Indiana, and Wisconsin.
Central Division Newsletters