New Section Managers
As of July 1, 2022, our new Indiana Section Manager is Bob Burns, AK9R. The new Wisconsin Section Manager is Jason Spetz, KC9FXE.
Thank you to Jimmy Merry, KC9RPX, for his two terms as Indiana Section manager, and to Patrick Moretti, KA1RB, for his three terms as Wisconsin Section Manager.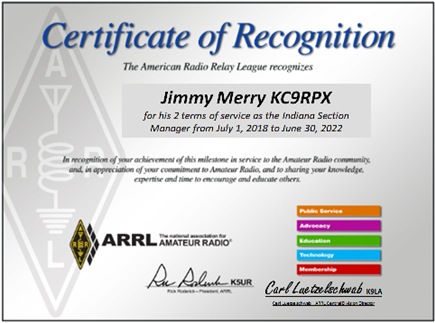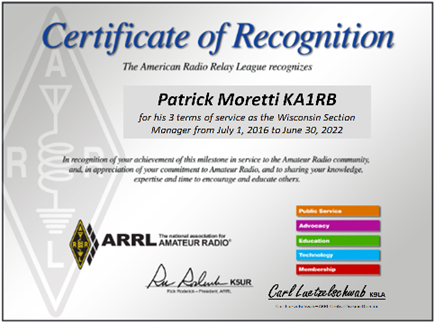 Section Conventions and Central Division Convention for 2022
Indiana Section Convention – held on May 7 in Peru
Illinois Section Convention – Midwest Superfest 2022, Peoria, September 17 and 18
Central Division Convention – HRO Superfest, Milwaukee, September 23 and 24
http://www.arrl.org/hamfests/hro-superfest-arrl-central-division-convention
Wisconsin Section Convention – Wisconsin ARES/RACES Convention, Wisconsin Rapids, October 15
K9LA and N9BA Committee Assignments
After each January Board meeting, President Roderick, K5UR, assigns Board members and officers to the various ARRL committees.
Carl Luetzelschwab, K9LA, Central Division Director, is assigned to the following:
EMC (Electromagnetic Compatibility) Committee – Chair
PSC (Programs and Services Committee)
Board Liaison for the DXAC (DX Advisory Committee)
Historical Committee
Brent Walls, N9BA, Central Division Vice Director, is assigned to the following:
ARISS (Amateur Radio on the International Space Station) Committee
ARES / AUXCOMM sub-committee of EC-FSC (Emergency Communications – Field
Services Committee)